OptionsOptions configurator builder
OptionsOptions enables you to build simple configurators. It uses Sketchfab to display the 3D model. With the configurator you can change the materials of your model. For example the body color of a car or the helmet color on a stormtrooper. Check out an example here.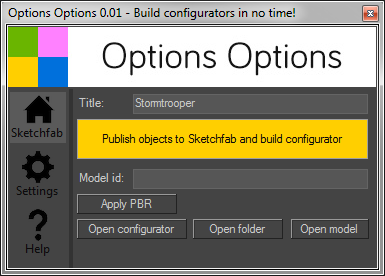 Material setup
Once you've set up your materials OptionsOptions goes to work. It builds the configurator automatically. First it captures your materials in a material library. Then it uploads your model to Sketchfab. Finally it builds a mini website for you. The website contains menus to pick the options of your configurator. You can have one option to pick from, such as the body color of a car. But you can also have multiple independent options, such as body color, interior color and glass color. Each of which is configurable separately.
Features
Easy upload of your model to Sketchfab
Automatic generation of a webpage with configuration options
Converts your standard materials to pbr materials
One-click sketchfab scene setup to pbr. No need to enter sketchfab to change those settings
Proper documentation
History
2015-12-04 0.01 Initial release