Screen capture in 3ds Max
There are many occasions where you'd need to make a screen capture in 3ds Max. Documenting a process, communication with clients and colleagues, posting issues to forums. It's always quicker to use an image to support what you're saying. This script will help you to quickly capture what you need.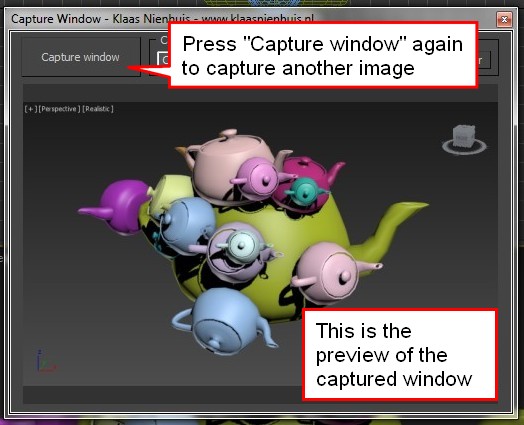 The installation procedure is similar to this.
Screen capture
This script captures windows. A window is any part of the screen which has its own id. In 3ds Max this could be a viewport, a toolbar, the commandpanel, a button, the maxscript listener, and so on. If the script is active, just click on any part of a window to capture the entire window. The image is previewed. Not what you want? Just try again.
More than viewports
You can capture anything on the screen, not just viewports. Why not share the buttons you've set up in the commandpanel or show that awesome shader you've created? You can do it with this script.